Vision & Eye Care
Financing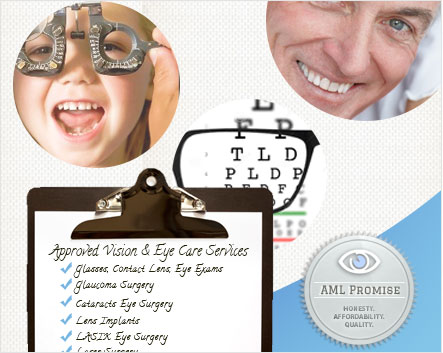 When a optometrist diagnoses your eye problems, the treatment can be as minor as purchasing some glasses or as severe as undergoing optical surgery. Whichever treatment your eye doctor suggests, a personal loan for vision can help you see clearly again - or even for the first time. Also, a vision loan helps finance routine eye check-ups and corneal care handled by general ophthalmology physicians.
Do you need financing for vision and eye care? You can finance your vision related expenses with a personal loan!
Do you have poor eyesight? A quick but temporary fix for those suffering from nearsightedness, farsightedness, astigmatism, dry eye disease, or other causes of blurry vision is investing in new prescription glasses, sunglasses, and contacts. However, if you believe you could benefit more from permanent vision correction, then eye surgery offers a more convenient and affordable medical care with sometimes better results. For instance, glaucoma and cataracts can be treated successfully with medication and surgery. A vision loan is available to fund the most current specialty surgeries. Lasik or laser eye surgery, Intraocular lens (IOLs), eye lid repair, lens implants, orbital surgery, and glaucoma surgery financing offers patients 20/20 vision at an affordable price.
Get a vision loan today and protect your eye health with financial assistance for you and your family.